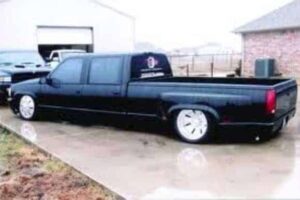 Many of our customers have asked how there particular vehicles air ride system would work, and what is involved to get it installed and if we offer systems that are completely bolt on… Well this is our attempt to try and answer some of these questions and provide our customers a better understanding of what is involved with these systems.
Unfortunately not every vehicle is the same, so the approach to installation needs to be considered based on the type of chassis we are dealing with.
To start we need to understand the suspension components in the front and the rear. The best way to do this is to check behind the wheels in the front and the rear. Some of the standard chassis components you will find are Leaf Springs, Coil Springs, Struts, or possibly Torsion Bars. No matter what you have we can accommodate a system for you by engineering hardware to either replace your current suspension component or in the case of torsion bars remove the tension of the bar with slammer torsion keys and add an assembly to then support the vehicle relying completely on air. This torsion assembly will also retain your AWD by utilizing the equipment above your drive train. Coil spring suspension and conversion is also fairly straight forward and in most cases is a simple removal of your coils and a upper and lower coil spring cup is installed. To elaborate this cup is built to slide into your old OEM coil mounting location and adapt to your Air Bag, quite basic. Another suspension component which can be found in most newer cars and trucks today and combines a coil spring with a shock is called a strut. These struts are built to be one assembly and are in most cases bolt in with little to no modifying required. We offer struts that will take the place of your old strut by compressing the coil spring and removing the shock body and coil, leaving the upper strut retaining plate intact. Once removed our air strut will retrofit using the hardware from your old strut to get you on air quickly and efficiently. Many trucks will require removing your leaf springs and retrofitting a new 4-link assembly in its place. 4-links take the place of your leaf springs by allowing up and down travel out of your axle without the suspension, so basically it will offer a free up and down movement axle keeping everything lined up so that the air bags which mount off of your frame and saddle over your axle can take over as the new suspension for the front or rear of your truck.
Thought these components utilize the same concept many of them will almost surely look different depending on the vehicle they will be installed in.
Next we will discuss the Air Management hardware and components required to get your vehicle equip with the air supply needed to lift and lower your newly installed air suspension. This equipment will range in cost depending on the how much power you would like with your final installation. The basic hardware required for this air ride management equipment includes a compressor, tank (air pressure storage), manual or electronic pneumatic air valves, check valve, pressure switch, switches (for adjusting the air in and out of your suspension/bags), relays, circuit breaker and of course don't forget airline and fittings. All of this equipment is used in conjunction with each other to provide a system of events that will fill and dump air from the air bags. We will discuss some of the more prevalent hardware needed and that customers usually have questions about. Some folks may choose to utilize two compressors or possibly a larger tank to allow longer play time without the compressor triggering on and off more. It is always a good idea to consider compressor output when choosing the size of your tank. Of course the larger the tank the more air stored, but remember the compressor is your lifeline to compressing the air and if it becomes overworked due to an over-sized tank you may be doing more harm then good. Another aspect of the management system are the valves. These are very important parts to your air ride system and control the flow of air to and from your air spring/bag. There are many styles of valves, some of which are separate and you installation may require 8 independent valves, where other equipment is a block that houses 4 – 3 way valves which function differently but ultimately offer the same outcome. Last but not least the switches, or a control unit. Switches are the most basic way to control your air ride suspension system and in most cases allow up and down control for each corner of your vehicle. Some switch control boxes allow for multi-function ability like 3-wheel motion, front, back, or side to side and more. Or if you are less into manual push button control and would like something to take care of that for you, then consider upgrading or purchasing a computer controlled digital air ride controller. These digital modules come with pressure sensors, or in some cases height senders for a more accurate ride adjustment and will allow you to preset ride heights for a quick one button adjustment, which is very convenient.
For your air ride suspension kits and parts be sure to check out our aftermarket air ride suspension section here: https://www.x2industries.com/aftermarket-air-suspension-c-76.html
For additional information and explanation as to how air ride suspension works please check out our AIR RIDE GUIDE at the link below: