Some of our customers request information on air bagging there classic cars, trucks or just about anything with a straight axle by mono leafing there leaf springs. This is the process of removing all but the main leaf spring to create a drop in which air bags can lift you back up to an alternate height.. This mono leafing your front or rear suspension, will provide you with the drop that is needed to air ride your application. Unfortunately this is not a good long term alternative to a drop or 4-link kit, as the single rear leaf spring will become weak and break within a year or two assuming this is a daily driver. If this is a show car then aside from the mono leaf approach looking and performing hokey, it may take a couple more years for the ultimate demise of the main leaf spring. To get an idea of what running mono leafs in any vehicle does, take a look at the images below.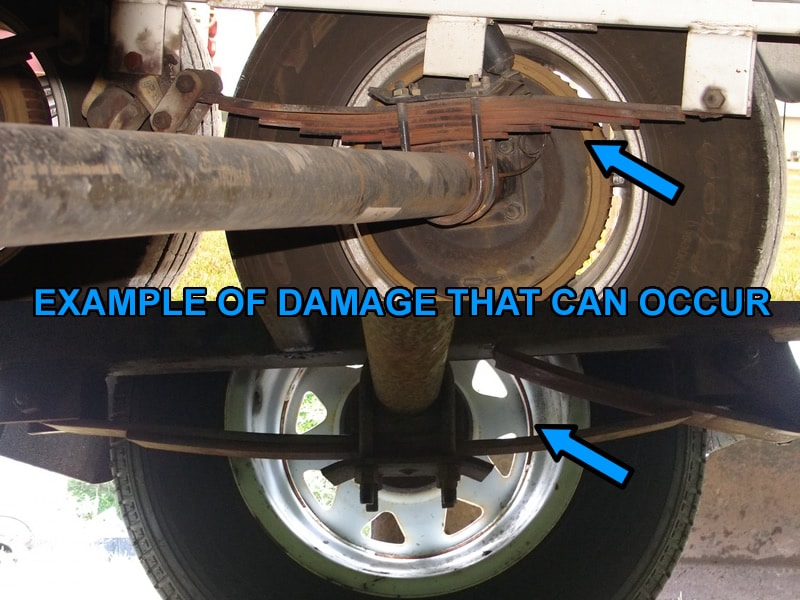 The goal here with air ride is to get the suspension down, down, down if you are looking for a slammed look, and then lift the vehicle to your ride height or above with the newly added air spring and bracket kit. Traditionally this is done with a 4-link kit which allows you to completely delete your leaf springs. These links allow the axle to free float while still keeping rigidity forward to back and side to side.
The other more cost effective and easier to install option is keeping your leaf springs completely intact and going with a static drop kit, which in most cases is an axle flip kit or a drop block kit. The above links will provide you a glimpse at the hardware that is needed to make this drop possible. Now in no way is this the correct way to do an air ride instillation but is certainly a better approach then running a mono leaf.
Once your vehicle is at a lowered stance you can then proceed to add the air spring to recover the height you are looking for. This is a much more cost effective way to lower and air ride your rear axle without having to jeopardize the integrity of your leaf spring too much. If a mono leaf is being used, be sure to stay diligent on inspecting this part regularly. You do not want a leaf spring breaking during normal driving conditions (speed) as it can be catastrophic.
I hope this helps, clarify some of the questions you may have had with regards to being cost effective and safe with your air ride installation involving a straight axle.