Tow kits have utilized Air Ride Suspension for some time now, riding our day to day driver of that awful looking level, and stiff ride quality found in static suspension tow kits by offering increased carrying/towing capacity while retaining the comfortable feel you are used to with a factory ride. There are many configurations for towing capacity to choose from, and this greatly depends on your application. No matter what you drive "car or truck" nowadays air ride leveling or towing kits are readily available.
In this reading we will talk about some of the industry standard options you have to choose from when considering your tow kit. Considering a budget some may simply start with a manual air fill style helper kit which is as basic as they come. In the diagram below you will see a basic Schrader valve connected to a tee fitting and two air bags. This will allow the user to bear there load for tow and then level to ride accordingly by filling the plumbed tire inflation valve (Schrader Valve) with a detached air compressor.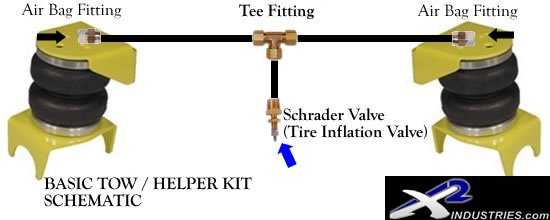 Though this is a very cost effective way to increase your are capacity and allow for a level ride, there are a few down falls. Considering you now do not have an on board air management system, the convenience factor is slim to none. You may also need to consider the ride quality and specific height at the time of the fill, or be stuck pulling over and either inflating the bags again or defining the bags depending on the situation. On top of this your simple inflation plumbing is connected by a tee fitting which ties both air bags together so the roll that you may experience during cornering due to the air transfer from bag to bag as the weight shifts may be more then you would like.
A second option is mechanical push button valves.