In this post we will elaborate on the differences between our air system models. There are two basic systems for each vehicle that X2 Industries provides air bag kits for, they are the Standard Air Ride System and Plug and Play Air Ride System.
The Standard Air Ride System is the more basic of the two. Keep in mind that both of these systems are fully built and complete to provide our customers with a more streamline install.
Our standard air ride suspension systems offer an independent corner control system to allow a dynamic front, back, right, left and independent corner control over the vehicle. Each vehicle requires different hardware and depending on the application this said hardware will be included for the chassis at each wheel, on top of this the system will include a basic 4 switch panel controller with built in 4 corner gauge display. Eight heavy duty brass independent air valves are included for the fill and dump at each wheel, as well as a fitting kit and 3/8 inch air line to plumb the air to each air bag in the system from the air management system. The major difference which separates each of these systems (standard kit and plug and play kit) is the air management hardware. The standard kit accommodates the installation with each piece necessary for a complete on board air supply including a single 1/3 hp 480c air compressor, three gallon tank, pressure switches, relay, wiring, and other hardware all separate to get the system up and running. This separate hardware can create a more timely installation compared to the valving hardware included in the plug and play system. The plug and play kit includes similar hardware at the wheels, once again specific to your application but includes an easier to install air engine assembly which can take you much less time to install. You will also find that this air management system houses dual 480c air compressors. The solid all in one air engine which takes the place of the 8 independent brass air valves as seen in the standard kit is key to the Plug and Plays quicker installation time. This can usually spare about 3-4 hours worth of installation time when it comes to the custom air suspensions air supply (air management hardware).  This system also includes an upgraded handheld avs style switch controller for convenience and a 5 zone digital gauge display. To get a clear picture of this you can take a look at the illustration below which lays out the hardware differences between the two air bag systems.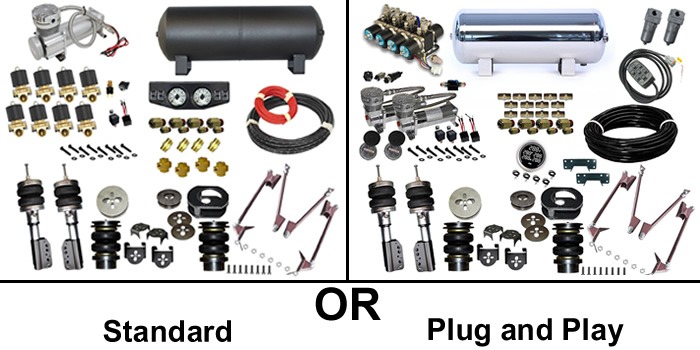 As always keep in mind that though we work very hard to make these systems as easy as possible to install while keeping our systems the most affordable on the net, there will always be work when it comes to installation, and every vehicle application is different and will require different installation techniques to get the job done right. Remember that we are here to help and assist with any questions you may have on the installation process of your custom air ride suspension installation.
Acura Air Suspension, Alfa Romeo Air Suspension, Audi Air Suspension, BMW Air Suspension, Buick Air Suspension, Cadillac Air Suspension, Chevrolet Air Suspension, Chrysler Air Suspension, Citroen Air Suspension, Daewoo Air Suspension, Daihatsu Air Suspension, Dodge Air Suspension, Fiat Air Suspension, Ford Air Suspension, Geo Air Suspension, GMC Air Suspension, Holden Air Suspension, Honda Air Suspension, Hyundai Air Suspension, Infinity Air Suspension, Isuzu Air Suspension, Jaguar Air Suspension, Jeep Air Suspension, Kia Air Suspension, Land Rover Air Suspension, Lexus Air Suspension, Lincoln Air Suspension, Mazda Air Suspension, Mercedes Benz Air Suspension, Mercury Air Suspension, MG Rover Air Suspension, Mini Cooper Air Suspension, Mitsubishi Air Suspension, Nissan Air Suspension, Oldsmobile Air Suspension, Opel Air Suspension, Peugeot Air Suspension, Plymouth Air Suspension, Pontiac Air Suspension, Porsche Air Suspension, Renault Air Suspension, Rolls Royce Air Suspension, Saab Air Suspension, Saturn Air Suspension, Scion Air Suspension, Skoda Air Suspension, Studebaker Air Suspension, Subaru Air Suspension, Suzuki Air Suspension, Tatra Air Suspension, Toyota Air Suspension, Volkswagen Air Suspension, Volvo Air Suspension